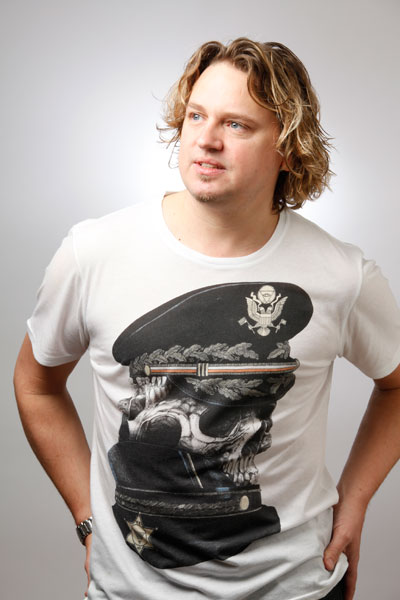 Biography for DJ/Remixer/Producer/Songwriter..... Bimbo Jones


Bimbo Jones began when DJ Lee Dagger made studio partners with Marc JB. Lee's background lies in Dj'ing, which he was drawn into in the early house seen of 1990-1991 after hearing the likes of DJ Sasha, Carl Cox and Massive Attack at those now infamous free parties. Meanwhile, JB started out playing thrash guitar in underground clubs, before becoming the accomplished multi-instrumentalist he is today. Together they have rapidly become one of the UK & U.S # 1 remix teams having reworked the likes of Lady Gaga, Rihanna, The Killers, Kylie, Keri Hilson, Kayne West & Ne-Yo, The Pussycat Dolls, Usher, Tom Jones and Annie Lennox to name but a few. They've also been nominated for the last 3 years at the Miami Winter Music Conference for best remixer and are currently in the running for best remixer at the Radio FG Awards being held in Monaco in 2 weeks time for their production skills on Lady Gaga "Alejandro".

They're now posed to hit their 64th Club Chart # 1 and have sat at the top of the UK Commercial Chart #1 spot for two consecutive weeks with their co-production skills on Meck ft Leo Sayer "Thunder In My Heart Again", a former Pete Tong Essential new tune.

Having just finished co-producing with the legend that is Sergio Mendes for his latest album they're also in the process co-writing with Gram'ma Funk, Cyko Logic, Katherine Ellis, Angie Brown, Beverley Knight & Cyndi Lauper for a Broadway musical,

Lee Dagger, the front man DJ of Bimbo Jones has played alongside some of the Worlds biggest names including Paul Oakenfold, Erick Morillo, David Guetta, Carl Cox, Bob Sinclair, Judge Jules and has enjoyed residencies at Pacha London, Space @ the Cross, L'amour, Chuff Chuff, Serious, headlining Sydney Mardi Gras and playing twice the greatest festivial of them all, Glastonbury. Tours have included Miss Moneypennys, Smirnoff, Miami calling, and Slinky. He's rocked dancefloors all over the World including Ibiza, Monaco, the U.S, Hong Kong, Poland, Holland, South Africa, Cyprus, Australia, New Zealand, France, Czech republic, Russia and Siberia to name just a few.

Bimbo Jones also broadcast all over the World with weekly radio shows via RadioFG (France), Radio Danz (Miami), My959 (Hawaii), C-89.5 (Seattle) GHR (San Francisco), 89.7fm Bay Radio (Malta) and guest mixes for Gaydar (UK) and KISS (UK).


Bimbo Jones #1 Remix & Production Discography

Rihanna "Only Girl (In The World)" Def Jam
Billboard Dance, Music Week Upfront & Commercial Chart #1

Kylie "Get Outta My Way" EMI
Billboard Dance, Music Week Upfront & Commercial Chart #1

Tim Berg "Seek Bromance" Ministry Of Sound
Music Week Upfront & Commercial Chart #1

Kelis "Accapella" Interscope
Billboard Dance, Music Week Commercial Chart #1

Bimbo Jones "Freeze" Tommy Boy
Billboard Dance #1

JLS "One Shot" Epic
Music Week Commercial Chart #1

Lady Gaga "Bad Romance" Interscope
Billboard Dance, Music Week Commercial Chart #1

Sergio Mendes "Yeh-Meh-Leh" Concorde
Album – Bon Tempo

Sergio Mendes "The Real Thing" Concorde
Album – Bon Tempo

The Pussycat Dolls "Hush Hush" Interscope
Billboard Dance #1

Lady Gaga "Alejandro" Interscope
Billboard Dance #1

Jordin Sparks "Battlefield" Jive
Music Week Commercial Chart #1

Britney Spears "If You Seek Amy" Jive
Music Week Commercial Chart #1

Girls Aloud "Untouchable" Fascination
Music Week Commercial Chart #1

Anjulie "Boom" Hear Music
Billboard Dance #1

Kid Cudi "Day n' Night" Ministry Of Sound
Music Week Upfront & Commercial Chart #1

Bimbo Jones "And I Try" Tommy Boy
Billboard Dance #1

Kimberley Locke "Fall" Curb
Billboard Dance #1

Ultra Nate Featuring Chris Willis "Give It All You Got" Tommy Boy
Billboard Dance #1

Meck feat Leo Sayer "Thunder In My Heart Again" Free2Air
Uk National Chart, Music Week Upfront & Commercial Chart #1

Plumb "In My Arms" Curb
Billboard Dance #1

P!NK "U & Ur Hand" LaFace
Billboard Dance #1

P!NK "Who Knew LaFace
Billboard Dance, Music Week Upfront #1

Kreesha Turner "Don't Call Me Baby" Emi / Capitol
Billboard Dance #1

Janet Jackson "Make Me" Virgin
Billboard Dance #1

Hilary Duff "With Love" Hollywood
Billboard Dance #1

Jessica Simpson "These Boots" Capitol
Billboard Dance #1

Jesse McCartney "Leavin'" Hollywood
Billboard Dance #1

Kimberly Locke "Band Of Gold" Curb
Billboard Dance #1

De Souza "Gulty" Ministry Of Sound
Music Week Commercial Chart #1

Beatfreakz "Superfreak" Data
Music Week Upfront & Commercial Chart #1

Solu Music "Fade" Ministry Of Sound
Music Week Upfront & Commercial Chart #1

Bimbo Jones "Harlem One Stop" Columbia
Music Week Upfront & Commercial Chart #1

Deep Dish "Dreams" Positiva
Music Week Upfront & Commercial Chart #1

Bodyrockers "Round & Round" Mercury
Music Week Upfront #1

Sun "Without You" MWR
Music Week Upfront #1

Terri Walker "This Is My Time" Mercury
Music Week Upfront & Commercial Chart #1

Geri Haliwell "Desire" Innocent
Music Week Commercial Chart #1

Bodyrockers "I Like The Way Move" Mercury
Music Week Upfront #1

Rachel Stevens "L.A Ex" Polydor
Music Week Commercial Chart #1

Emma Bunton "I'll Be There" Polydor
Music Week Upfront & Commercial Chart #1

Gareth Gates "Sunshine" BMG
Music Week Upfront #1

Systematik "I Want To Know What Love Is" Emi
Music Week Commercial Chart #1

Lisa Scott Lee "Too Far Gone" Mercury
Music Week Upfront #1

Amen UK "Passion" Positiva
Music Week Upfront #1

Kym Marsh "Come On Over" Island
Music Week Upfront #1

Lisa Scott Lee "Lately" Mercury
Music Week Upfront & Commercial Chart #1