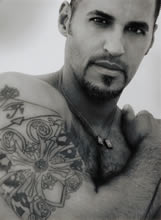 "I've been around for 15 years and people say they are just starting to recognize me? That's the most flattering thing of all." So marvels DJ Eddie X.
"People are still calling me 'the up and coming DJ.' You know what? That's brilliant. After 15 years, if I can still be considered up and coming, that's the biggest honor I could receive."
Of course, Eddie X is anything but up and coming … in the colloquial sense, that is. He innovated underground deep House in Los Angeles in the early '90s; he brought his signature sound to Miami in the mid-'90s to help launch Ingrid Cassares' Liquid into the night club hall of legends; and he stuck around to revolutionize Friday nights with Pump.
All the while, this master of mixing has reworked hits for Cyndi Lauper, Madonna, Anastasia and others.
It's a testament to Eddie X's modesty and devotion to his craft that he's not necessarily thought of as a "personality" — rather, he's a professional, eschewing the limelight for the opportunity to take a raw space and turn it into an event, or, as he likes to say, a journey, one that can last years with only weekdays as the gaps between the time he comes and goes from the booth.
Today, that booth is most often at Ken at Avalon, a space, says Eddie, that harkens to his early days in Los Angeles when a night out meant stimulation beyond the aural type. "The routine for club-goers has gotten too monotonous because DJs have become stars of the night, and promoters have forgotten about the production value of the night. For instance, if you don't have a great lights guy, the night will be half what it could be — club owners have lost track of that," says Eddie. " I mean, how can you play for six or eight hours when nothing else is going on, no other vibe? People need visual stimulation, and club life needs more live elements."
Eddie, who is known for his throbbing underground deep House and tribal elements, should know — his entire life has been about movement. In fact, he began his career in entertainment as a dancer, having studied in New York City at the Alvin Ailie and Martha Graham Schools , and auditioning for Broadway shows. He went on to choreograph and entertain in shows and videos for such groups as Black Box and C&C Music Factory.
Meanwhile, he was out at the clubs, soaking up what was shaping up to be the dawn of the big house sound of New York City. From Paradise to Garage, from Zanzibars, Better Days to Sound Factory, Eddie listened intently to jocks like Junior Vasquez, Frankie Knuckles and Danny Tenaglia … and he waited.
When he moved to Los Angeles, he did so to pursue choreography, but, frustrated with the clubbing options, he and a friend from New York City opened a little club over the Fight Club and named the night "Temple" — it was one of the only spots in L.A. where people could party all night, and, within weeks, people were lined mile-deep at the door.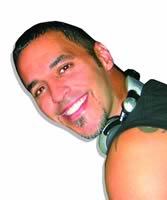 "I started out with 200 guests my first night and it got big really quick. It was a little mystery club, and by week eight I had 3,000 people coming through the door on a Saturday night," Eddie recalls, saying that the music, peppered by the likes of chunky House superstars like Uncanny Alliance, Tent City, early Murk, was totally new to the West Coast in 1991.
"It became huge. From frat boys to the leather boys to the lesbians to the rockers, they were all there. They were there with Madonna, Sean Combs — everyone was coming, and everyone waited and paid, there was no VIP — they just wanted to come and dance, it was all about the music and it was something that was missing in L.A. "
Before long, 'Temple" was moving from location to location in Los Angeles, with Eddie notifying a mailing list of thousands about enormous parties, whether a launch for 'The Adventures of Priscilla, Queen of the Desert" or "Men's Skirt Party."
Eddie was also cutting his teeth on another residency, "Pump," at the El Rey Theatre, where he promoted and played for five years.
As L.A. slowed and Miami became the hub of glamour and nightlife, Eddie sprang into action. He had been summoned in 1996 to spin a night at the legendary Warsaw Ballroom in South Beach at about the same time that Miami club impresario Ingrid Casares phoned him about the possibility of a residency at her club, Liquid.
"I never went back to L.A. ," laughs Eddie, and anyone who knows anything about night life is well aware that Liquid was the apex of entertainment. Madonna, Sylvester Stallone and k.d. lang were regulars at the hot spot while as many as 500 people would wait outside to get into the club. 'This was the time when Miami was the bomb." And Eddie was the spark that was igniting it. Soon, he was tapped to do a Friday gay night, and "Pump" was not only reborn in Miami, but, after five years, went on to become the longest running club at that time in South Beach. Eddie was also spinning "Sex" and "Anthem" at Crobar while making a name for himself internationally.
By 2003 when "Pump" closed, Eddie had established himself as an international sensation and a master remixer. In fact, before jumping into Ken at Avalon, Eddie had pledged to spend his time in the studio with partner Luigi Gonzalez developing new stars and mixing new songs. That said, he says that being back in the scene is intoxicating.
"It's so strange, I wanted to pull back on DJing to produce, and now that I have tracks out, I'm getting more calls from clubs and promoters. It's a catch-22," says Eddie who counts his remix of Melanie Smith's "Meet Me in the Bathroom" as the hit of summer 2005. "One always brings the other more work, and I'm going with the flow because there is nothing like DJing live. It's just magical and for me it's a blessing, that I can do what I love."
In fact, Eddie X loves his craft so much, that, instead of an up-and-comer, he considers himself more of a teacher. "I like to be considered an educator because whether people are newcomers, club veterans, or your in-betweens, they want to be educated. And, they want a journey," says Eddie. "But I don't get self indulgent. I don't believe in playing what I like and if you don't like it, go home. As a DJ ,you need to read a club.
I start my night bouncing around different areas and different sounds to see what catches the crowd. The key is to get the crowd involved, because music can take them anywhere."