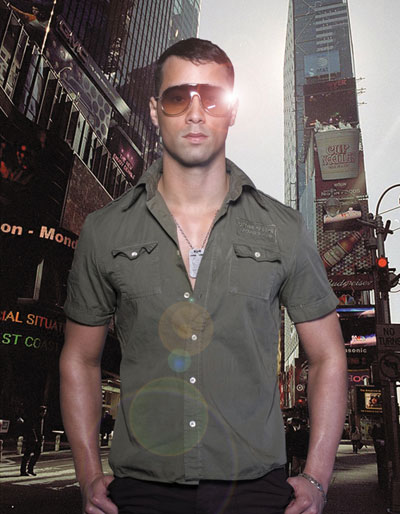 • Named "Hottest DJ" by OUT Magazine
• Residencies at the best parties in New York (Club 57 and New York Fashion Week), Miami (Score), Washington, D.C. (Town), Los Angeles (Reflex), Orlando (EnVibe), Montreal (Parking), Toronto (Fly), and Celebrities (Vancouver).
• Headlines all of the major dance events (minimum 2,500 attendees) including Winter Party (Miami), White Party (Los Angeles), Black Party (New York), Jungle (Houston, TX), Black and Blue Festival (Montreal), Diverscite (Montreal), Carnival (Rio), Bal en Blanc (Montreal), Gay Pride (Boston), and Prism Gay Pride (Toronto)
• Working exclusively with singer-songwriter Macy Gray on her new album in 2010
• He is one of the United States' most in-demand remixes. He recently completed remixes for Yinon Yahel, Superchumbo, and Lady Gaga (Paparazzi and Poker Face), and Laroux (In For The Kill and Bulletproof)
• More than 30,000 friends/fans follow on Facebook/MySpace
• He has also been signed by a major L.A. production company to produce a very exciting reality TV series that captures the behind-the-scenes of the life of a DJ in 2010 -- that may potentially launch with HBO, Showtime, VH1 or MTV

DJ Hector Fonseca connects with his crowd instinctively. Uniquely fusing funky rhythms, tribal sexiness and electronic edge, he continues to offer the dance floor unprecedented vision coupled with freshness of creative expression. Whether in a small trendy lounge or one of Manhattan's super clubs, Fonseca raises the bar; slowly and strategically stepping out of the shadows into the limelight of a new era in NYC nightlife.

HIS BEGINNINGS Fonseca roots in New Jersey. Just minutes from the out-of-control Manhattan nightlife scene of the late 80s, he was taking over the controls at every party he went to. He sharpened his ear for the sound and his ability to blend beats by listening to legendary DJs including David Morales, Frankie Knuckles, and Junior Vasquez. That was all it took; he was hooked on dance music and it became his life.

HIS REACH…
Word of the talented DJ spread quick: soon he could boast of residencies at New York City's legendary Limelight, Tunnel, Centro Fly, Spa, Heaven, Cheetah, Eugene's, and Plaid; Philadelphia's Shampoo; as well as numerous national spots. Before long, he had attracted the attention of his mentor, Grammy Award-winning DJ/Producer Peter Rauhofer as well as the acme dance track label, Star69 Records. Numerous heavy play, high charting remixes followed for artists including Brandy, Missy Elliot and Kelis. In 2004, his remix of "Heartattack" by Jahkey B. featuring Satta reached top ten on the Billboard Dance Chart. Most recently, the musical Midas lent his golden touch to the fashion world. Onlookers couldn't help but bounce to his eclectic set as the models strut down the runway for the Victor Alfaro, Sarah James, Jill Stuart and the Armani Exchange shows.

HIS FUTURE…
"It's all about pleasing the crowd while, at the same time, giving them something unique that they can't find somewhere else. Nothing is more satisfying than giving it to a crowd and getting it right back; that's what I strive for." It's with this passion that Fonseca will continue to DJ, remix and produce. Whatever the crowd – fashion, commercial, underground or industry – Hector Fonseca emerges as the man to watch.