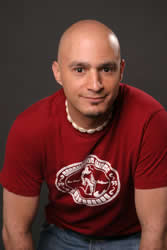 In the elite world of the DJ, there are maybe a handful of names that come to mind that one could associate with having longevity and major success. One name that stands out in particular is DJ Mike Cruz. For over twelve years Mike Cruz has been DJing, producing and remixing works that have garnered him success in the United States and around the world.
Indeed. Cruz's wickedly intoxicating blend of underground, tribal infused grooves and rousing vocal anthems has helped solidify his status as one of the most sought after DJ's on the circuit today. Working his magic to sell out crowds in the US while at the same time gaining rotating residencies at celebrated hot spots like Chicago's Hydrate, Tampa's Chrome party and Providence's Fuel @ Diesel, just to name a few, it's a wonder that he still maintains his 10 year residency at Krash in Chelsea, NYC.
Cruz seems boundless in his quest to make his brand of music known to the world. With his increased profile and growing demand, the 12-year house music veteran has now taken his trademark house-fusion sound globally. Cruz has traveled to spin guest spots in cities like Vancouver, Cancun, Madrid and Ibiza, Spain, where he can be heard spinning his masterful brand of tribal beats at Club Space and the circuit party staple, Anfora Disco. He has also touched down in Tel Aviv, Israel where he wowed the masses for FFF/Shirazi and managed to land himself another residency.
Yet with his DJ career in full swing, Cruz still finds time to churn out massively popular dance floor hits. Mike has created awe inspiring, dark and twisted soul soaked remixes for artists including Amber, Kristine W., Inaya Day, Andrea Love and Anna Visi, just to name a few. With five number one and countless top ten billboard dance chart hits under his belt, Cruz shows no signs of fading away.
Currently, Cruz continues his rigorous DJ schedule maintaining his residencies around the world as well as a flurry of dates already confirmed in the U.S and abroad.
Mike Cruz lives in NYC