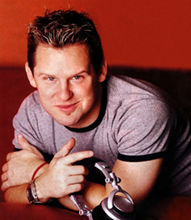 DJ Scotty K.'s music career began about eight years ago in New York City, where he spent much of his free time establishing himself as one of the hot, up & coming DJs around, spinning for various private events & parties in and around the Big Apple. In 2001, Scotty K. relocated to Los Angeles in an attempt to make music his full-time occupation and to bring his uplifting vocal, club & tribal grooves to Los Angeles. When his music was heard by the owners of here Lounge in West Hollywood, he was quickly snatched up to become the head & resident DJ.
In the club scene, Scotty K. has traveled all over the U.S. and as far away as Venezuela to play for the hottest nightclubs & events. As the resident DJ for two of the most successful weekly club promotions in Los Angeles (Tom Whitman's "Size" & "Player"), he has also had the chance to work with such club scene favorties as Pat Hodges, Becky Baeling, Erin Hamilton, Pepper Mashay, Anastacia and Cyndi Lauper.
Scotty K.'s most significant achievement to date was being hired for "The Ellen Degeneres Show", where he made television history as daytime television's first "DJ", in lieu of a band and band-leader. Scotty K. helped successfully launch the show by adding his vast musical knowledge, taste and credibility to the show and contributed to making it a ratings hit.
Since being on the show, Scotty K. has been booked for more many club appearances & circuit events around the country and is spending a lot of time in the studio remixing dance tracks to help keep music alive & well on the club scene.
Scotty K. lives in Los Angeles