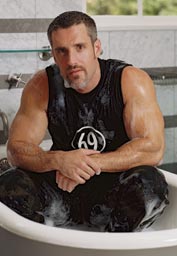 Dance singer Colton Ford comes from the video world, and believe it or not, way before he starred in "adult videos" he was signed to a "major" record company!
Colton's recent dance hit is called "Everything" (featured remixes by Guido, Solar City, and Gant Johnson) and was released in April 2003 on Nervous Records.
Colton just finished working on a new dance song called "Stay" which was produced and remixed by Hani who got his start with Junior Vasquez.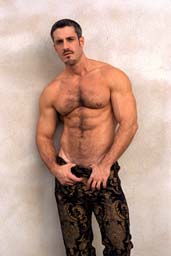 Colton also just finished a new track with Guido that is freakin' amazing. Think Justin Timberlake vs the Gap Band. The song is fresh and has an amazing beat. It should be coming out some time soon as well.
Also Pepper Mashay has teamed up with Colton and they recorded an amazing duet called "Signed, Sealed, Delivered" which was produced by Scott Anderson aka Solar City. This is a guaranteed dance smash. This song was released in January 2004 and zoomed to the top of the Billboard Dance Charts to the #9 position.
I truly think that Colton has the goods to break thru (which is never easy for a guy singer) and have a very promising career in clubland, (not to mention "circuit parties") because he has a harmonious voice, rugged good looks, spectular stage presence and a wonderful personality!
Colton often chooses to perform in leather chaps and a cod piece, and needless to say leaves the boy's, not to mention the girl's wanting much more!!!
Colton lives in Los Angeles, California.